The Intergenerational Phenomenon in Companies
It is increasingly evident that companies present heterogeneous staff in terms of age. Thus, it is not uncommon to find between three and five generations coexisting in the same work environment: Veterans, Millennials, Baby Boomers, Generation X, Generation Y, Generation Z. The generational diversity in companies is evident.
None of them has the same way of working, ways of proceeding, knowledge and work and life circumstances. Although we are aware of these differences, we have not delved into what experiences, values, abilities, concerns and motivations mark their vital and professional essence.
This generational reality becomes strategic for organizations because there are still many challenges to be solved. Among others, we need Baby Boomers to retire as late as possible and continue to add value. However, we disassociate them or do not count with them, and nobody measures in economic terms what the decapitalization of their knowledge supposes.
Meanwhile, our mature youth, Generation X, currently trapped between the burdens of their age, children, mortgages ... and the lack of projection in their professional careers by the Baby Boomers, feel stressed and unmotivated because everything falls on them.
In the relationship with our young people, Generation Y (the best trained), either they do not work or at best, they have had a very precarious relationship with the labor market and emigration has been considered, they do jobs that do not correspond to their training and however we want to retain them.
And finally, Generation Z, new witnesses of this world that they are inheriting, can see how the effort and work done by their parents and the great training of their brothers are not bastions of success.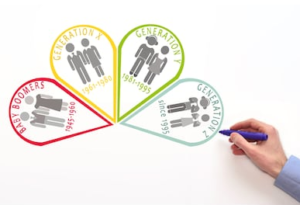 Elena Sanz, Managing Director of Human Resources of MAPFRE, recognizes that "time is the variable that will determine the success of the management of different generations, since it is the point that marks the great difference between current generations; the immediacy, the need to quickly change projects and the anxiety to learn, are the most important characteristics in the new generations accustomed to access information and content immediately". She also talks about "managing talent without thinking about the generational changeover, but using the skills and abilities of each one", since "the great objective will be to motivate people through knowledge management and their contribution to different areas and projects of the company, allowing them to increase their employability by participating actively in different areas of the company. All this related to a good communication and recognition policy ".
This generational diversity must bring about changes in the strategies of human resources, with new approaches aimed at managing age, to take advantage of the strengths and opportunities that it generates.
Actions such as conducting a self-diagnosis as an initial itinerary to analyze the situation of the organization regarding the age management, knowing when the company is located, awareness-raising workshops, taking advantage of accumulated experience, ability to resolve and global vision as a source of job training and knowledge transfer to other young workers, action plans with an age approach, planned generational change, avoiding discriminatory policies ... .., can be measures or good practices for adapting the company to this new stage.
http://www.thinkergyus.com/how-generational-shifts-will-impact-business-and-innovation
To sum up, the multi-generational workplaces can host as many as five generations. Having people who were born between the 1920s and the 1990s work together creates the potential for creativity and innovation, but also for conflict and misunderstanding.
Some tips to avoid these pitfalls and thrive through:
Staying respectful, flexible and understanding.
Avoiding stereotypes.
Being open to learning from others, and helping them to learn from you.
Adapting your communication style.
Focusing on similarities between individuals, rather than on generational differences.