TRAINING OF HIGH SCHOOL STUDENTS AND APPRENTICE ABROAD
Škofja Loka School Centre annually announces an Erasmus + mobility program to which students are happy to apply. So far, 110 students went studying or on practice abroad. Teachers are also encouraging students to study abroad, as the positive results of international exchanges or practices in a foreign company are visible in classes, in theoretical subjects, in practical classes and in a foreign language class. At the initiative of the school, in certain cases, the company also proposes that their student or apprentice go to practice abroad, usually in a subsidiary or partner company. Students have the opportunity to go abroad as part of their WBL for one month, and the apprentices for 3 months.
The purpose of education abroad is not only to acquire specific professional competences and knowledge, but also to promote social and linguistic skills for apprentices which are training in companies operating in an international environment. Previous experience with this type of education and training has shown great results because our students have easily integrated into the work process in foreign companies and transferred their knowledge to another work environment, despite having previously used software, machines and devices that were different.
After approval of the project, we carry out the process of selecting students and apprentices, and then together with the partner school and partner company draw up a learning agreement that includes the competences (professional, linguistic and intercultural) that the student or apprentice will gain or improve. The chosen company is responsible for the implementation of the learning agreement abroad. An agreement is also signed with the student/apprentice on a grant from the EU under the Erasmus + program for individual support for accommodation and accommodation and travel expenses. For students and teachers, we also arrange accommodation, hotel room reservations, itinerary, logistics, tickets, airline tickets and all necessary insurance: health, accident and personal liability. The apprentice also participates in preparation for mobility, refreshes language skills, takes OLS testing and training. We familiarize the apprentice with the culture and habits of the host country, and provide additional practical training if necessary, if required by the work he will do in a foreign company, to ensure that the apprentice is able to make better progress.
Erasmus + apprenticeship practice is intended as long-term apprenticeship mobility and lasts 90 days abroad. We agree with the parent company of the apprentice, the sending school (High School of Mechanical Engineering), the partner school (the apprenticeship school) and the partner company abroad on the tasks that the apprentice will perform and on the skills and competences he/she will acquire or improve. The tasks are first agreed upon by the head of the practical training at the company, at the home school and by the mentor of the apprentice's parent company. Then the school, in collaboration with the employer and the Chamber, prepares and coordinates the apprenticeship plan. According to the agreement, we also prepare a learning agreement.
Before the start of apprenticeship training at a company abroad, representatives of a company from Slovenia, project coordinator, manager of an Inter-Entrepreneurial Education Centre (MIC), leader of practical training at employers (PUD) and director of the Secondary School of Mechanical Engineering, arrange and prepare for a preparatory visit to a company abroad a plan for undertaking apprenticeship training at the company. Then the school prepares a translation of the documents for the mentor in the company, which is annexed to the apprenticeship plan and is the basis for achieving the set training goals. It also includes evaluation aimed at both the apprentice and the mentor and is also the basis for assessment in the professional module at school.
In a partner company abroad, an apprentice is assigned a mentor who directs, supervises and takes care of his/her job safety and agrees and coordinates with the mentor in the parent company in Slovenia. During the internship we also visit the apprentice in the company.
The apprentice mobility abroad ends when the partner company issue a certificate of completed tasks and competences, a partner school issue a certificate of the entire mobility program and a Europass certificate, edited by the project coordinator at the home school. The entire mobility for the apprentice ends with the presentation of his mobility at the Secondary School of Mechanical Engineering, intended for students and apprentices, teachers, tutors, school leaders and representatives of partner companies in Slovenia.
So far, we have implemented one example of good practice in apprentice training in Germany in cooperation with Novi Plamen d. o. Fr. Apprentice Max was highly praised for his apprenticeship in Germany, where he completed part-time training under an apprenticeship program, as the experience he gained was invaluable. He perfected himself at the partner company of the company Novi Plamen. He learned a lot of new things and thus gained new knowledge in the field of profession, improving his English and German.
ADVANTAGES
The advantages of implementing apprenticeship education abroad for school are evident in the field of exchange of experience and knowledge, which encourage creativity and introduction of new ideas into the educational process. They are also an example for other students and apprentices, who therefore make it easier to choose and attend education and training abroad.
International experience enhances employability and career prospects and enhances self-initiative and entrepreneurship. Apprentices and students are more independent and confident and improve communication and foreign language skills. Students and apprentices are more aware of working conditions in Slovenia, which are often even better than abroad. International experience enhances intercultural awareness. Students and apprentices are more active in society and more aware of the European project and the values of the European Union. It has also emerged that after a period of mobility abroad, students and apprentices are more motivated to participate in further formal as well as non-formal education or training.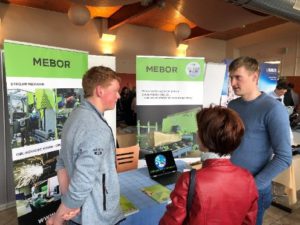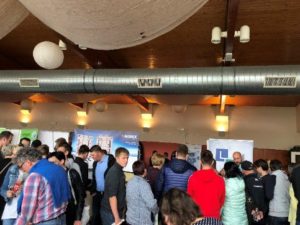 Picture 1: The students share their experiences with future students and their parents.
DISADVANTAGES
In the long-term mobility of apprentices, under Erasmus+ or ErasmusPro (3-9 months), we were faced with the problem of apprentices' age, since even in the final, third year, most of them are not yet adults, which in most companies abroad is often a precondition for enrolling. Thus, unfortunately, most secondary school students and apprentices are less likely to participate in the programme. We also believe that mentors at home and abroad should be motivated and rewarded for the apprenticeship training time. Ideally, a mentor from Slovenia could also participate in longer mobility.
CONCLUSION
At Škofja Loka School Centre, they can summarize from their experience that the implementation of international mobility and practical training is an exceptional experience for apprentices, students, as well as for businesses and schools, as it provides a lot of new knowledge, skills and experience that neither the school nor the employer can provide during education and training.
Benefits to the company
More and more employers today are waking up to the benefits of the mobilities of apprenticeships.
An apprenticeship allows an individual to study for a work-based qualification that can significantly improve their future earning power and career enjoyment. But it also provides many benefits for the employer.
Apart from having the opportunity to influence VET curricula, there are some other key benefits of having apprenticeship training for the companies:
Boosting Productivity and Competitiveness
There is evidence that employing apprentices can improve the productivity of companies, with recent research demonstrating both short and long-term gains. A research study carried out for the Centre for Economics and Business Research (Cebr) found that, on average, each apprentice brings a gain in productivity of more than £10,000 per year for their employer, with figures for some sectors being even higher.
As well as boosting productivity, apprenticeships can also help companies to compete in the modern marketplace. In industry research, 77 per cent of employers agreed that taking on apprentices helped to make their organisations more competitive. Another finding was that more than 8 out of 10 customers prefer to buy from companies which employ apprentices.
Cost-Effective Training
Apprenticeships are particularly cost-effective as a form of training, because young people are making a contribution to the workplace while they are learning. Apprentices spend much of their time gaining skills on the job.
Another cost advantage for employers is that, while you are expected to pay your apprentices' wages, funding is available to cover many other training costs..
Apprenticeships provide skilled workers for the future
Apprenticeship training helps employees to improve their skills, which will benefit the company in the long term.
An apprenticeship will also ensure that the skills developed are matched to the company's future needs. This will help fill any skills gaps and allow the business to source future managers and leaders from within.
Apprenticeships increase staff loyalty and retention
Employees who have been trained in-house tend to be highly motivated, committed to the company and supportive of its business objectives.
An apprenticeship encourages employees to think of their job as a career and to stay with the company for longer, which reduces recruitment costs. Offering an apprenticeship to an existing member of staff shows that you see them as an integral part of the workforce and are happy to invest in their future.
According to data from the National Apprenticeship Service, 92% of companies that have taken on apprentices believe this leads to a more motivated and satisfied workforce and 80% have seen a significant increase in employee retention.
Apprenticeships increase a company's bottom line
Investing in staff trained through apprenticeships has a positive effect on a company's finances, making it more competitive.
National Apprenticeship Service data has shown that 81% of consumers favour using a company that takes on apprentices. You can even calculate the return on investment of an apprenticeship on your business on the organisation's website.
Furthermore, as companies receive funding for each apprentice they take on, it means they don't have to spend as much to recruit new staff.
Apprenticeships free up existing staff time
As a business grows, staff often find their time is taken up by smaller tasks when they should be concentrating on their key areas of work.
Delegating these basic jobs to an apprentice allows them to learn and take responsibility, while freeing up the time of your more experienced staff. Better allocation of work should make your business more productive.
Apprentices can revitalise a company
Apprentices often bring a fresh approach and a positive attitude into the workplace, which can have a knock-on effect on existing staff. By embarking on an apprenticeship, they are showing themselves to be willing to learn and can bring new ideas into the company.
As apprentices come from a range of backgrounds – including high-calibre candidates who do not want the costs of going to university – they can bring fresh insight into your business activities.
Finally, a company that is willing to invest in people by supporting apprenticeships is showing a positive approach to Corporate Social Responsibility, which is good for attracting both customers and future high-quality staff.
(http://cmsvoc.co.uk/blog/apprenticeships-5-employer-benefits-of-apprenticeships/)
More information here:
https://europa.eu/newsroom/events/mobility-apprentices-europe-contribution-youth-employment-and-competitiveness-business_en