Nowadays one of the biggest challenges the employers face is finding the qualified staff that possess the needed skills and knowledge to take on the difficult challenges of their job. As the labour market gets more and more competitive it gets harder to stand out to an employer between the hundreds of candidates applying for the same position with the same level of experience. This is where the portfolio plays an important role in the selection prose as it acts as the first impression the employer gets on the candidate as well as it is the first step in reviewing process to determine whether the candidate have demonstrated the necessary level of experience and knowledge. The portfolio is a formal way for the student to present their abilities, achievements and work experience to a prospective employer. Some of the key benefits of a portfolio are the ability to enable students to discover, document, and develop their skills, reinforce the integration of academic skills, reflect on work and goal setting, establish and strengthen their integrity and so on. A portfolio should consist of different documents that provide insight into the achievements of a student/apprentice during a practice/apprenticeship. These documents are:
Learner's folder: A document that provides basic information about the company and to leave a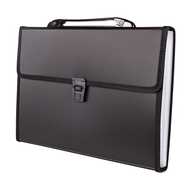 model of simple "log" to be easily completed by the learner during the WBL.
WBL/Apprenticeship contract/document: A document that is supposed to be the legal basis governing the practice/apprenticeship of the student/apprentice in the company.
WBL plan: A document which is used as a tool that can benefit all Parties that are takin part in the work-based learning process. Some of the benefits include: Creates a climate for motivation, helps learners understand the importance of planning, provides a means of self-evaluation, ensures that learner time at the workplace is learning-rich and many more.
WBL evaluation paper of soft skills and competencies: The document is a good indicator of how much the student/apprentice has learned in the company and what his/her work habits are. Provides the future employer with the inside on the student/apprentice regarding the areas where their skills excel and the areas where improvement might still be needed
Recommendation letter: The recommendation letter is written by the teacher or employer and it's used as vouch for the skills, achievements, and aptitude of the students/apprentice that is being recommended. Every employer knows that the recommendation is received only by the person with whom they are satisfied. This document will have great importance in future recruitment.
CV: CV is a detailed document highlighting students professional and academic history. It should contain: Personal information, Education, Working experience, Intercultural experience, Information Technology skills, Hobbies and fields of interest
Are you interested in learning more about how to prepare a good portfolio? Have a look at the following literature and get a better inside how to prepare the best portfolio