1. Setting the Scene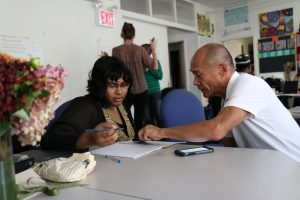 A mentor has an essential role to play in providing the necessary training to apprentices. Unfortunately many are experts in their specific technical field. However are these people ready to be mentors in a work-based learning context?
Mentors do not work in isolation, and are not machines. Hence the human nature is to be considered as well. An effective mentor requires crucial attributes and skills that together complete the profile of a successful mentor.
2. The Qualities of a Mentor
In order to better understand the profile of a mentor, we need to consider some examples of good qualities that are expected from someone to fulfill this role. The below list includes some examples. It is to note that this is not exhaustive. Nonetheless, it should surely serve as a good start for your understanding.
Good Communication Skills
Questioning Skills
Ability to listen actively
Motivation
Ethical Principles
Training Skills (pedagogy)
Desire to help others
Positive attitude
Emotional Intelligence
Good Organisation Skills
Time Management Skills
Ability to provide constructive feedback
Aility to set , follow and achieve professional goals
Honesty
3. It goes beyond just one role
When engaging in mentoring activities, some might think that this involves 'wearing one hat'. Well in actual fact, you will be required to wear different hats. You are the teacher, counselor, advisor, role model, motivator and possibly more. A mentoring process should also consider the human element , and thus should not be limited to focus only on the technical skills.
4. Do I have the necessary skills and attributes ?
This is a common question that anyone entrusted with such a role asks.  It is a mistake to think that because you know a subject, or your are  an expert in an area, you can be an apprentice mentor. The process of personal development planning can also be applied to this situation.
Step 1- Conduct self assessment and identify your needs
The first step should be to conduct a self assessment and understand your strengths and weaknesses.
What is my current situation?
What do others think of me in terms of behavior, attitudes  and skills ?
How do I consider myself, in terms of the skills and attributes required by an effective mentor?
You can use different approaches, such as conducting a personal SWOT or using a 360 degree feedback questionnaire. The latter is highly effective as it allows for feedback to be given from superiors, colleagues, subordinates and even customers, if applicable to your context.
At the end, the purpose of any tools is to get meaningful results that you can then analyse and act upon.
Interpret any results and identify the areas that require improvement. Furthermore, think about how your lack of certain attributes and skills, and also your strengths, can have an impact on your mentoring process.
Step 2- Prepare an Action Plan
The second step  should be to prepare an action plan, on how you are going to deal with weaknesses found. This could be through various means, and depending on the area. Examples include, counseling, training courses, participating in seminars and more You are to consider as well issues such as costs, resources required, employer support, own funds etc... SMART (Specific, Measurable, Achievable, Realistic, Timely)  goals are important at this stage.
Step 3- Implement Plan
This is a critical step as now, you need to implement the original plan.
Step 4- Evaluate and Review
The final step should be, evaluate and take necessary actions to ensure that the plan is followed. It is quite common to review the initial plan and make changes. This is also an opportunity to reflect on the initial process, and how you can improve accordingly.