EURES und andere EU-Instrumente – Kostenvorteil für Arbeitgeber/innen
Ausbildungsstellen sind der Schlüssel, um die richtigen Kandidat/innen für die richtigen Rollen in ganz Europa zu finden. Die Europäische Kommission arbeitet stets daran, Auslandserfahrungen und Beschäftigungsfähigkeiten auf dem EU-Arbeitsmarkt zu fördern, und möchte die Arbeit von Personalvermittler/innen und Job-Plattformen mit relevanten technischen Lösungen und Unterstützung ermöglichen. Daher hat die Europäische Kommission eine Reihe von Instrumenten und Diensten für ein besseres Verständnis von Fähigkeiten und Qualifikationen entwickelt und um deren Kommunikation zu unterstützen. Die Instrumente werden in Zusammenarbeit mit dem Bereich der Bildung, Ausbildung und dem Arbeitsmarkt entwickelt und implementiert. Sie ermöglichen die Sichtbarkeit der Fähigkeiten und unterstützen so Menschen bei ihrer Lernplanung und Karriere in Europa.
EURES – Das Europäische Portal für berufliche Auslandserfahrungen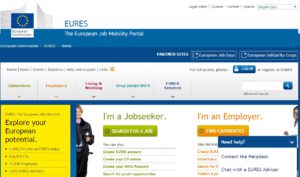 https://ec.europa.eu/eures/public/en/homepage
Das EURES-Netzwerk bietet:
Informationen zu beruflichen Auslandserfahrungen
Rekrutierungs-/ Vermittlungsdienste
durch Zusammenarbeit zwischen öffentlichen Arbeitsverwaltungen (PES) in den EU-Mitgliedstaaten sowie Norwegen, Island, Liechtenstein (EEA) und der Schweiz.
Konkret besteht EURES aus:
einem Netzwerk von EURES-Mitarbeiter/innen mit rund 1100 Menschen aus ganz Europa, die Unterstützungsdienste anbieten;
einer zentralen Internetseite mit verschiedenen Instrumenten.
Das folgende Video zeigt, wie das EURES-Netzwerk funktioniert:
Seit Fassungen von 2016 wurde der EURES Binnenmarktanzeiger überarbeitet, um den neuen Zusammenhang zu berücksichtigen, der durch die Verordnung (EU) 2016/589 des Europäischen Parlaments und des Rates vom 13. April 2016 über ein europäisches Netz von Arbeitsvermittlungsdiensten (EURES) eingeführt wurde, Zugang der Arbeitnehmer/innen zu Mobilitätsdiensten und weitere Integration der Arbeitsmärkte.
Die Informationen in diesem Bericht basieren auf aktuell verfügbaren Informationen. Die Ergebnisse sollten im Lichte der EURES-Organisationsstruktur und der Arbeitsmarktsituation in jedem Land interpretiert werden.
A) Nach Indikator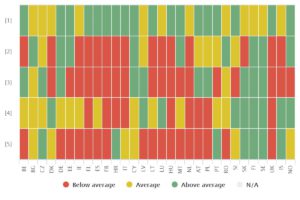 Der Indikator [2 & 3] spiegelt möglicherweise nicht genau die Bestrebungen der Länder wider, offene Stellen zu teilen. EURES berücksichtigt nur offene Stellen, die auf zentralen nationalen Portalen veröffentlicht wurden und den festgelegten Standards der öffentlichen Arbeitsverwaltungen entsprechen.
B) Alle 5 Indikatoren kombiniert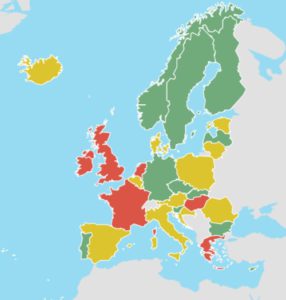 Die Gesamtleistung wird anhand der fünf Indikatorenpunkte berechnet.
Länder können "verdienen":
100 Punkte für einen Indikator mit der Aufschrift "grün"
75 Punkte für einen Indikator mit der Aufschrift "gelb"
50 Punkte für einen "rot" gekennzeichneten.
Die Farben auf der Karte stellen die Summe dieser Ergebnisse dar:

Klicken Sie hier für weitere Informationen: http://ec.europa.eu/internal_market/scoreboard/performance_by_governance_tool/eures/index_en.htm
ESCO - Europäische Klassifizierung von Fähigkeiten, Kompetenzen, Berufen und Qualifikationen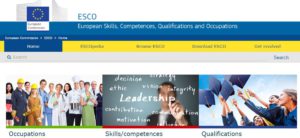 http://ec.europa.eu/esco
ESCO ist ein mehrsprachiges Klassifizierungssystem, das Fähigkeiten, Kompetenzen, Qualifikationen und Berufe abdeckt. Es ist eine europäische Referenzontologie mit 3 000 Berufen und 13 500 Fähigkeiten, verfügbar in 27 Sprachen. Es kann auch als Referenzbegriffsverzeichnis beim Entwerfen von Bewertungen, der Identifikation von Qualifikationslücken und Fähigkeitskartierung und Erfahrungen zu Arbeitsplätzen oder Programmanforderungen dienen. Das gemeinsame Referenzbegriffsverzeichnis kann dazu beitragen, den europäischen Arbeitsmarkt effektiver und eingebundener zu gestalten und gestattet es den Arbeits- und Ausbildungswelten effektiver miteinander zu kommunizieren. Die Bewerbungsprogramschnittstelle (API) ist eine Softwarekomponente, die die Interaktion mit anderen Softwarekomponenten erleichtert. In dieser Videoanleitung wird erläutert, wie Sie die ESCO-API zum Abfragen der ESCO-Klassifizierung verwenden. Es richtet sich an Anwendungsentwickler/innen, die die ESCO-Klassifizierung in ihre Anwendung oder ihren Dienst einbetten möchten. Das Video zeigt, wie auf die API zugegriffen wird, untersucht, was sie kann, und bietet einige Beispiele für ihre Verwendung. ESCO bietet seine API auf zwei verschiedene Arten an: als ESCO-Internetdienst-API und als lokale API. Das Video navigiert durch den Internetdienst-API. Dieselben Informationen gelten jedoch auch für die lokale API, die auf einem lokalen Server installiert ist. Das Video zeigt, wo sich die API und weitere Informationen dazu im ESCO-Portal befinden.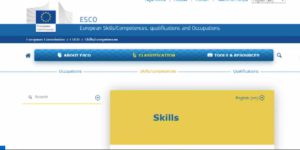 https://audiovisual.ec.europa.eu/en/video/I-161740
Beispiele:
A) Island ist eines der ersten Länder, das die ESCO-Klassifizierung auf nationaler Ebene einführte. In diesem Video erklären Fachleute des öffentlichen Arbeitsamtes in Island und der isländischen Regierung in Fachberichten über die Bedeutung ausländischer Arbeitnehmer und wie ESCO zur Überarbeitung von Arbeitsplattformen im Land eingesetzt wird. Durch die Verwendung der ESCO-Klassifizierung werden die aktuellen Herausforderungen bei der Stellenvermittlung effektiv gelöst, sie erleichtert den Stellenvermittlungsablauf, indem Arbeitgeber/innen mit den richtigen Bewerber/innen verknüpft werden.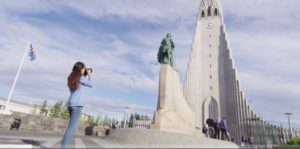 https://audiovisual.ec.europa.eu/en/video/I-162745
B) Docebo ist eine der ersten Plattformen, die künstliche Intelligenz und die ESCO-Klassifizierung kombiniert, um die richtigen Schulungsanforderungen der Mitarbeiter/innen zu ermitteln. Der Geschäftsführer und die Expert/innen der Docebo-Plattform in Italien liefern Berichte über die großartige Unterstützung von ESCO bei der Ermittlung von Qualifikationslücken bei Mitarbeiter/innen und wie es anschließend die Online-Schulungsinhalte für Unternehmen mit dem/der richtigen Mitarbeiter/in abstimmt, um diese Lücken zu schließen. Darüber hinaus wird eine Reihe von ESCO-Vorteilen aufgeführt, einschließlich der Standardisierung von Fähigkeiten entsprechend der künstlichen Intelligenz und wie Benutzer/innen von den Vorteilen der mehrsprachigen Plattformumgebung profitieren können.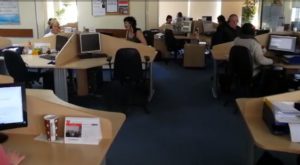 https://audiovisual.ec.europa.eu/en/video/I-163051
Self assessment
1- The EURES network provides:
job mobility information
recruitment/placement services
both of them
2- EURES consists of:
a network of EURES staff of about 700 people across Europe providing support services,
a central website with various tools
a multilingual classification system
3- ESCO is a multilingual classification system covering
Skills and competences
skills, competences and qualifications
skills, competences, qualifications and occupations
4- ESCO is a European framework with:
000 occupations and available in 27 languages
000 occupations and available in 17 languages
500 occupations and available in 15 languages
5- Indicate the wrong sentence:
The European Commission has not always worked to facilitate mobility and employability in the EU labour market.
The EU Commission wants to enable the work of recruiters and job platforms with relevant technical solutions and support.
The European Commission has developed a range of tools and services to support the better understanding, and communication, of skills and qualifications.